Bed and breakfast St Anton:
a perfect start to the day with Tyrolean specialities
"Breakfast is the most important meal of the day" – for us at the Pension Der Steinbock, our traditional bed and breakfast in St Anton, this is more than just a slogan: it is a living tradition. In our 300 year old farmhouse, the gourmet breakfast with Tyrolean specialties is the highlight of your day.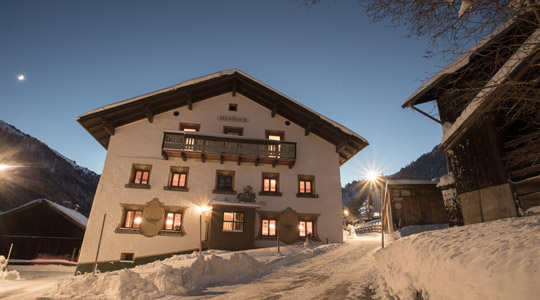 We start the day in the traditional Tyrolean way with a hearty breakfast, which sets us up for a wonderful day in the Alps. With us, "bed and breakfast" is more than just the "room with breakfast", which you may already be familiar with at other establishments. We transform a simple bed and breakfast into true Tyrolean hospitality and offer you a rustic culinary experience with a feel-good factor.
A picturesque setting for a leisurely breakfast
It's easy to find accommodation with breakfast included in St. Anton but in our two rustic farmhouse dining rooms we offer more than a simple room with breakfast: a lavish, traditional Tyrolean farmer's breakfast awaits you at our traditional farmhouse. What's more, we invite you to enjoy breakfast just like the former inhabitants of our 300-year-old farm did and as we Tiroler still like to do nowadays whenever we have time: by eating together. At communal tables, you can feast to your heart's content on our local delicacies from 7:30 a.m. to 10 a.m, chatting, getting to know each other and enjoying life. Naturally, we also respect your privacy: for those who prefer to eat breakfast by themselves, there are smaller tables at which you will not be disturbed.
We offer a hearty regional breakfast
As you come into our breakfast room, the scent of fresh pastries and freshly roasted coffee invites you to enjoy breakfast. Sit down, make yourself comfortable and help yourself at our breakfast buffet. The honey comes from beekeepers in the village, the yoghurt from the local dairy and eggs from a farmer from the nearby Pitztal. Our jams are a special highlight: all jams are homemade according to our family recipes. Let us spoil you at the breakfast buffet with a variety of cheeses and cold meats, fresh scrambled eggs, boiled eggs, lovely bacon, sausages from the farm, delicious cereal, fresh fruit, regional yoghurt and a wide selection of fresh, fragrant pastries.
Our sustainable breakfast in St Anton
Our products come from the beautiful Tyrol; we want to keep our wonderful country clean and protect our unique flora and fauna. For us, that means that we will not only entertain you mainly with regional products but will also refrain from packaging materials wherever possible. Nothing is served pre-portioned: our farm butter and the wonderful homemade jams are served in open bowls at the buffet and are freely available for you – take as much as you like and enjoy our homemade specialities.
Our delicacies: or 10 good reasons to enjoy our bed and breakfast St Anton
In Tyrol, breakfast is celebrated: we love to eat, we love hospitality and we love to entertain our guests with the taste of local delicacies. We cordially invite you to celebrate this heritage with us: the 10 best reasons for a bed and breakfast stay with us are all on the menu:
A variety of cheeses and cold meats
Delicious egg dishes such as scrambled eggs or boiled eggs
Hearty bacon
Homemade sausages
Large choice of cereals
Fresh fruit salad
Local yogurt
Fresh, crisp pastry
Sweet bread plait
Gugelhupf
Of course, there also plenty of hot drinks to warm you up before a wonderful day on the surrounding ski slopes. Coffee drinkers can savour the fragrance of various beans and roasts while speciality coffees such as espresso or latte macchiato are available at an additional cost; not forgetting everyone's favourite, a mug of rich hot chocolate.
Setting you up for a wonderful day of skiing
Our beautiful St. Anton is a Mecca for skiers and snowboarders from all around the world. Der Steinbock bed and breakfast St Anton is the perfect accommodation with breakfast in St Anton for all winter sports fans and snow bunnies. It offers the perfect starting point for a wonderful day on the ski runs in the area: directly from your room at from the Pension Der Steinbock, the free ski bus takes you to the lifts in just three minutes.
Our rooms with breakfast included allow you to discover the ski area around St. Anton am Arlberg, with plenty of time to celebrate our Tyrolean style breakfast. Thanks to the wonderful connections to the ski slopes, you can relax and take the time to enjoy our buffet breakfast, restoring and strengthening you for the day's action on the slopes.   But don't worry: you can book your room with breakfast in two variants. All "comfort" rooms have their own bathroom. If you opt for the "Tradition" variant, you book a room with a washbasin; shower and toilet are then separate. As we would like to offer all our guests the greatest possible comfort, "Der Steinbock" is a non-smoking house; we would also like to do without pets out of consideration for guests with allergies. Book a room with breakfast in our house and convince yourself of the magic of Tyrolean tradition. We look forward to seeing you! Do you still have questions about your holiday? Do you still have questions about the package deal? Just give us a call (+43 5446 2243) or send us an e-mail. We look forward to seeing you! Kind regards from St. Anton am Arlberg, The siblings Barbara & Mathias Kometer Request & Booking Booking hotline: +43 54 46 22 43 E-Mail: pension@dersteinbock.at Copyright: John Thornton