Celebrate with us, the most beautiful time of the year!
Still looking for a suitable location for your Christmas party? Then we have exactly the right location for you, whether for smaller or larger companies.
We will make your Christmas party unforgettable with full of happy moments that will remain in your memory.
To give your celebration the right atmosphere, you can book our Tyrolean Stube exclusively for yourself. From a number of at least 20 persons, the room is available exclusively for you and your guests (by prior arrangement).
Celebrate your party in a unique ambience and spend the evening in atmospheric and cosy surroundings.
We invite you to feast, chat and feel good in our traditional Tyrolean parlour.
Our chef Laura will spoil you with culinary delights and will put together a menu according to your wishes. You can enjoy fresh and seasonal products to suit the time of year. We offer dishes and menu suggestions with or without meat for our guests. In our restaurant we attach great importance to sustainability. For this reason, we do not use saltwater fish or seafood in our dishes.  A high degree of creativity and clever ideas surprise the taste senses of our guests again and again.
In our restaurant there is also a suitable wine from our wine list for every dish. Sommelier and host Mathias Kometer pays attention to a wide selection of wines from all over Europe.
Of course our guests can park for free in front of our hotel "Die Arlbergerin". So all guests can start their celebration in the restaurant very comfortably.
We offer:
traditional Tyrolean parlour
Culinary delicacies
Exquisite wine list
Christmas Table Decoration
Cosy ambience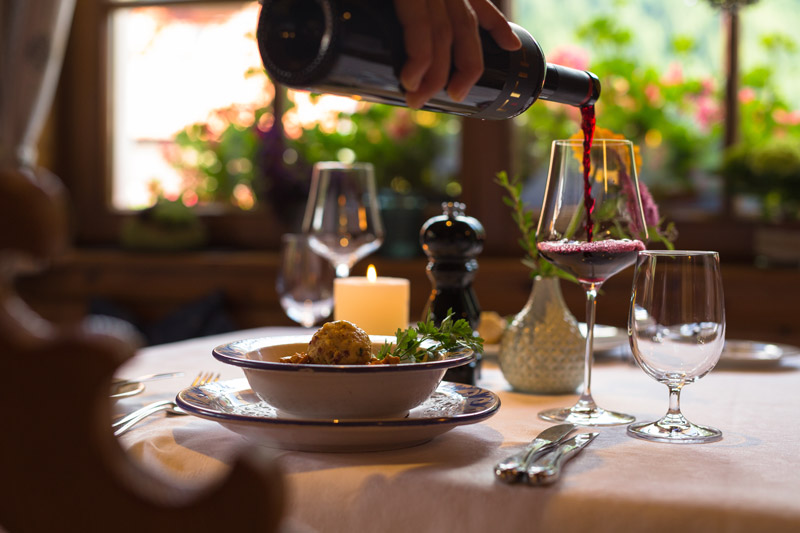 Christmas is a fitting occasion to let the past pass in review and to mobilize all forces to start the new working year full of energy and freshly strengthened. Say THANK YOU to your employees and staff at Christmas time.
You can't buy the best gifts, you experience them. Christmas is the feast of joy, of togetherness and of the heart.
We are looking forward to your inquiry & reservation.
Do you have any questions?
Just give us a call or send us an e-mail. We will be happy to advise you about your winter holiday at the Arlberg Hotel Die Arlbergerin.
We also offer overnight packages. No matter if you stay one or more nights. Just have a look at ours: Holiday ideas in winter.
We look forward to seeing you!
Greetings from St. Anton am Arlberg,
The siblings
Barbara & Mathias Cometer
Inquiry & Booking
Booking hotline: +43 54 46 22 43
E-mail: hotel@diearlbergerin.com
Photo:
© Christina Ehammer
© John Thornton