Your restaurant in
St. Anton am Arlberg
à la carte restaurant

Our restaurant in St. Anton am Arlberg offers guests everything their heart desires. With us you will be spoiled with first-class dishes as well as exquisite wines, which will make your visit to the restaurant a culinary experience. Enjoy the GOOD TIROLIAN CUISINE with classic dishes.
Bookable for hotel guests & out-of-town guests ♥
Reservation requested
| for hotel guests the reservation is possible at any time
| For à la carte guests from outside, reservations in winter are

only possible on the same day from 12 no

on | in summer, table reservations are also possible for guests from outside at any time (children 6+ years)
Our restaurant in St. Anton – Dinner offer at a glance
Sonnbichlstube:
In our rustic Sonnbichlstube you can enjoy traditional Tyrolean cuisine. We ask for a table reservation.
Gourmet:
You can also enjoy Tyrolean dishes from our à al carte menu in our gourmet restaurant.
Hotel bar / bistro

For in-between snacks and cold drinks at our bar are ideal. You do not need a reservation and can simply take a seat.
Enjoyable through the DAY
Early Bird Espresso at the hotel bar from 7 a.m.
Breakfast: 07:30 – 10:30 (10:30-12:00 late riser breakfast board)
15:00: the bar & bistro are open
Dinner: Kitchen from 18:30 – 20:30 | Table reservation required.

meet and greet at the hotel bar (glass of wine, long drink)
early bird coffee

Early bird
enjoy from 7 o'clock your
good morning coffee
at our hotel bar
Breakfast's

Buffet
feast to your heart's content
from 07:30 – 10:30 (summer until 10 am)
at our breakfast buffet
from 10:30 – 12:00
a late riser special | sweet or salty
at our hotel bar
Bistro

at the hotel bar
our bistro menu is available from 15:00
The gourmet chef on the Arlberg: Our chef James Pope
When our chef James Pope lends a hand in the kitchen, he transforms every dish into an absolute taste sensation
Through his creativity and love of cooking, Mr. Pope enchants his guests with his culinary skills every day.
He shares his experience and passion for cooking with us and our guests through many classic dishes. Outside the kitchen, James is also appreciated by the guests for his great personality with a lot of humor and charm.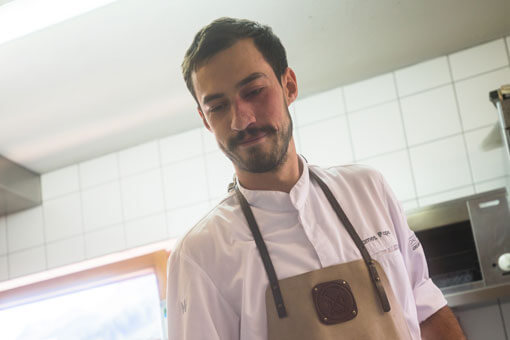 What you need to know about our restaurant
à la carte restaurant
To be able to spoil our guests also culinary in the best possible way, you can choose from our à la carte menu in our two parlors. We recommend a table reservation.
Open daily from 18:30
From 6:30 pm our à la carte restaurant in St. Anton am Arlberg opens its doors to all lovers of good cuisine. Until 20:30 you will have the opportunity to choose from a wide selection of dishes and fine wines. Afterwards, we will gladly continue to provide you with beverages of your choice. You can find more about our offer in the menu.
Austrian specialties, modern cuisine and snacks
You think you know the Austrian cuisine? In our Sonnbichlstube you can expect a completely new interpretation of the well-known classics. If you like to try creative dishes of international cuisine, our gourmet restaurant is perfect for you. For the small hunger we offer snacks and of course many different drinks at our bar.
Reservations for celebrations still possible
You would like to celebrate a wedding, a family celebration or a company event with us? Feel free to contact us! We are the perfect location for celebrations up to 20 people and are happy to put together a customized package for your event. A reservation for celebrations is also possible if you are not staying at our Hotel St. Anton.
Cozy ambience
Enjoy your meal in the cozy atmosphere of our restaurant. We will not only take care of your well-being with our dishes, but we will also spoil you with our comfortable, traditional interior. Sit back, relax and treat yourself to an enjoyable evening.
Extensive breakfast buffet from 07:30 to 10:30
With local produce from the farmer next door, savory egg dishes and a large selection of cereals, there's something for savory as well as sweet morning gourmets. You would like to sleep in comfortably? Thanks to our long breakfast hours until 12:00 noon, even late risers do not have to miss out on the invigorating breakfast.
Your advantages in our restaurant in St. Anton am Arlberg
Sustainable cuisine
In our restaurant we attach great importance to sustainability. For this reason, we avoid saltwater fish and seafood in our meals. In addition, we make sure that your dishes are conjured up from regional or even homemade products. We offer you culinary taste journeys without harming the environment.
Exquisite wine list
In our restaurant, for every dish there is also a suitable wine from our wine list. Sommelier and host Mathias Kometer pays attention to a wide selection of wines from all over Europe. We serve you noble drops, which round off your dishes tastefully. Should you wish to delve deeper into the world of wine, Mathias will be happy to explain to you what is important in a good wine.
Free parking for every guest
We offer our guests one free parking space per room in front of the house. In addition, there is a garage with parking for motorcycles in the summer, as well as a charging station for e-cars.
Also suitable for vegetarians
Our menu offers meat dishes as well as vegetarian food. Our chef James Pope shows our guests again and again how much pleasure also meatless dishes can prepare.
Attention!
Table reservations for out-of-town guests are possible on the same day from 12 noon onwards